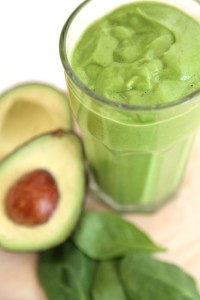 Do you ever watch Keepin' Up with the Kardashians?  Have you ever noticed that Kourtney drinks an avocado drink that looks not only nutritious, but delicious?  Well, here's a recipe that isn't exactly Kourntey's smoothie, but it's an avocado drink that resembles the type that Kourt drinks on the show.
Serves 1
1 handful spinach
1 frozen banana
1/2 small avocado
1/4 cup unsweetened almond milk
1/2 tsp vanilla
1/4 tsp cinnamon
Blend blend blend until creamy and smooth!
Note: If you don't have a high powered blender, you can use 1/2 cup of almond milk!
Recipe:  www.rabbitfoodformybunnyteeth.com