Disclaimer:
The information presented in this website and the comments from Dr. Hughes are not intended to diagnose, treat, cure, or prevent any disease or psychological disorder. The information presented is not a substitute for medical, psychological or psychiatric treatment. You are advised to seek professional medical and psychological help as necessary.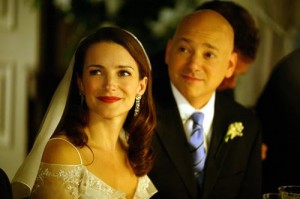 I'm having some doubts about my upcoming marriage.  Is this normal?

Let's see….enormous life-altering decision involving 2 families, stress, expectations, and hormones?  Mimi can't imagine anyone not having doubts in this scenario!
So by all means, do not worry about anxiety and doubts without further thought.  When you have doubts, it's important to consider their origin.  Ask yourself:  am I nervous about the wedding?  Weddings and the myriad celebrations can stress anyone out.  Be sure to separate that kind of nervousness from something deeper.
It is a very good idea, when thinking of being with someone long-term, to know yourself well and have some big-picture priorities in alignment.  Even if you are very happy now with your lives, think further along.  Be sure you are on the same page in terms of having a family, financial security, religious practices, and anything else that is part of your identity.  You cannot predict the future and although it is important to grow and evolve as a couple, a strong foundation of trust and respect is all any good relationship has at the beginning.
Now if you don't have those things, for example, your finace has cheated on you many times, lied, made promises that were not kept, or in anyway repeatedly demonstrated that they would not be a good partner, pay attention to that.  Some people, young women in particular, get so caught up in the idea of getting married (I blame Pinterest!) that they overlook a lot of things related to the relationship,  So if you are having doubts about your marriage, make sure it's not your wise-self trying to get your attention.
Dr. Carsi Hughes received her Ph.D. in clinical psychology from Northwestern University Medical School. She is a licensed clinical psychologist who specializes in adult psychopathology, clinical neuropsychology, and psychoanalytic psychotherapy. Academic appointments include Associate Clinical Professor of Psychology and Post Baccalaureate Pre-Medical Studies at Dominican University.