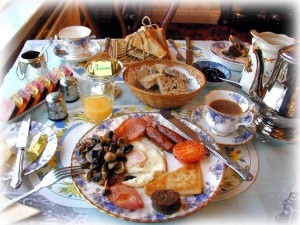 Where did the Irish breakfast originate?  Many say that the Irish starting making it for when there was a heavy work day on the farm or on a cold winter morning.
When it comes to an Irish breakfast today, different households enjoy different types of foods.  This includes:
Bacon
Sausages
Black and white puddings
Eggs
Mushrooms
Tomatoes
Cold Cooked Potatoes
Potato Bread
Homemade bread with butter and jam
Tea
Orange Juice
Enjoy one this St. Patrick's Day!