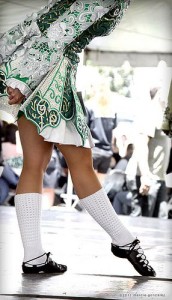 I know that there are a lot of Irish Americans in Chicago.  Everybody claims that their grandparents came to America during the potato famine.  But, my family, we're the real deal.  Both of my parents were born in Ireland, and came to the United States as teenagers.  So for us, St. Patrick's Day is not only our favorite holiday, but an institution!  So, obviously, becoming an Irish dancer was a no brainer when I was a little girl.
I started dancing when I was four years old.  I loved wearing the costumes and the wigs.  It was so much fun, and I made so many friends.  But then, it became an obsession.  After school and on the weekends I practiced.  I would have competition after competition, and during the month of March, my dance group would have gigs every weekend near and far.  The highlight of my career was performing in Ireland.
I wanted to become a professional Irish dancer.  But then, when I was in college, I met a fellow Irish dancer named Liam.  Liam was just as Irish as I am, with beautiful green eyes.  We instantly fell in love.  After we got engaged, we decided that instead of becoming professional Irish dancers, we were going to take our love of dance and business and start our own Irish dancing school.
So today, I help coach several little girls who dream of becoming Irish dancers.  With the luck of the Irish, anything is possible.