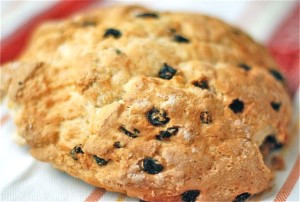 Traditional Irish soda bread is made with whole- meal flour, buttermilk, and salt.  However, this is a basic recipe.  Each recipe is different depending on location and tradition.
The history of the soda bread began in the 1800s.  The Irish people cooked the bread in a bastible, which is a iron pot with a lid.  The bastible could have been put on a coals, so an oven was not needed.
Baking Irish soda bread was an inexpensive for the Irish, since they could have gotten buttermilk from the cows or the wheat that they grew.
Different variations of soda bread occurred from different regions in Ireland.  In Donegal and Leitrim, they had a tradition of putting caraway seeds in their bread.
The raisins or dried fruit in the bread would've been a luxury item since those foods were hard to come by.  Whoever was baking the bread added the fruit or raisins if there was some to spare in the house.
www.epicurious.com