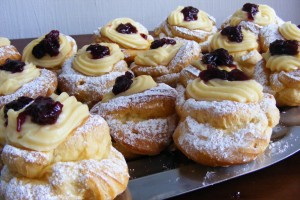 It's that time of year where Italians and Catholics are wearing red and eating delicious zeppole.  We all know that we can eat zeppole at a St. Joseph's Day tale, but where can you BUY these delicious pastries?  Well, here's your list:
 The Sicilian Bakery
4632 N. Cumberland Ave.
Chicago
***
Ferrara Bakery
2210 W Taylor St
Chicago
***
Palermo Bakery
3317 N Harlem Ave
Chicago
***
Allegretti's Bakery
7717 W. Lawrence Ave.
Norridge