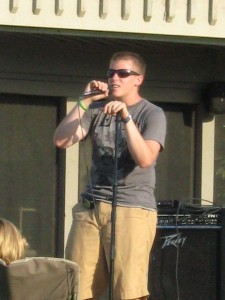 It has taken Nick Brose two years to write his newest album "Two," but this album was definitely worth the wait.  With a new sound and killer vibes, "Two" proves to be everything that you've waited for.  This new album hits iTunes April 19.
"When the Sun Comes Out"
This track was nothing like Brose has ever written before.  "It's a bad boy song," Brose confesses.  "It has a cool/ funky vibe.  It's a lot of fun."  The song is about getting drunk and having a one night stand.
"Burn the Letter"
This song is about the hardships of a long distance relationship when dealing with empty promises and words.
"Maybe One Day"
You know that tingle you get when you like someone and you want to ask them out?  "Maybe One Day" is about wanting to ask out a girl, and hoping that it could become something special.
"You Won't Hear This"
"I wrote this song about someone but they won't know it's about them," Brose said.  Hm, well maybe that special girl is reading Emme Magazine?
"Fall Forever"
This track took Brose a long time to write due to writer's block.  "It has cool harmonies," Brose said.  "It's about just wanting to fall in love and wanting love that person forever."
"Economics of Our Hearts"
According to Brose, this is one of the most interesting songs.  It's a track about stating how easy love can be when you put your hearts together.
"Clear the Air"
"It's about not holding grudges," Brose said of the track.  If someone hurt you in the past, forgive them.
"Four Season Girl"
This remastered track talks about wanting to love the same girl for all four seasons.  "It's about someone I'm going to stick with through all obstacles."
"Love Has Fallen"
Brose also remade this song, since it was a track that people really enjoyed.  "Sometimes a relationship is good and we don't realize how great it could have been," Brose said of the popular song.
"Love Again"
This is the second half of "Love is Fallen."  According to Brose, this track has killer harmonies.
"In the Trees"
Brose wrote this song two years ago about the TV show, Walking Dead.  The track has an acoustic airy sound.
"Bear the Odds"
Inspired by the show Arrow, this track is about when times get tough, you can rise about the occasion and be the best person you can be.