You had a long day at work and your kids are exhausted from their school day. You're helping them finish their homework at the kitchen table and realize that it's 5:00 p.m. Crap, it's dinner time!  Here are some easy and delicious snacks and recipes for busy parents, students and people!
Sliders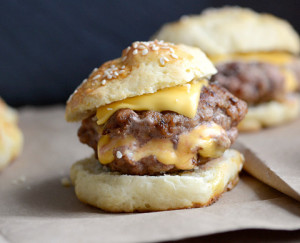 Ingredients
Butter or Hawaiian Rolls
One Pound of Ground Beef
One Package of Shredded Cheddar
One Package of Lipton Onion Soup Mix
Take the brown ground beef and drain the fat. Add a package of dry onion soup mix and a package of cheese.  Melt the cheese on a low to medium flame.  Keep stirring!
Slice the buns sandwich style and spoon meat mixture on bottom half of the rolls and place top halfback back on. Keep the cardboard container and place the sandwiches back in it. Put them back in the plastic and seal. Cook in the microwave for about 3 minutes — it could be less depending on your microwave.
**Tip** Some people don't pull the rolls apart. Some slice them down the middle and put the bottom halfback in the cardboard container, put the meat on and top it with the top half of the rolls. Then, you're done!  You can also add a pickle on each roll.
***
Stuffed Shells with Mushroom Sauce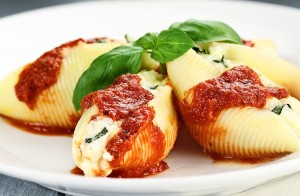 1 pkg. frozen stuffed shells
3 tbsp. olive oil or cooking oil
1/2 c. diced onion
3 cloves of garlic (minced)
1/2 lb. fresh mushrooms (cleaned and sliced) or 2 cans (7 oz. each) sliced mushrooms (drained)
1 can (14 oz.) beef or chicken broth 
1/4 C. Marsala, port wine or water mixed with 2 Tbsp. cornstarch
Fresh chopped parsley (garnish)
Preheat oven to 400 degrees. For sauce, heat oil in skillet. Add onion, garlic and mushrooms; saute until onion is soft. Stir beef broth and bring to a boil. Gradually add cornstarch mixture, stirring constantly. Return to a boil and cook until thickened. Salt and pepper to taste. Set aside.
Place stuffed shells in a greased 9x 13 x2 inch baking dish. Cover with mushroom sauce. Cover and bake until mixture is hot and bubbly, about 40 minutes. Garnish with parsley. Add lemon juice.