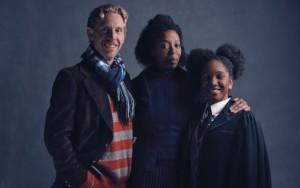 A new Harry Potter book hasn't been released since 2007. Since then, Muggle fans all over the world have been dying to find out what happened to Harry and company after the last book ended. Well, on July 31, "Harry Potter and the Cursed Child" was released.
"Harry Potter and the Cursed Child" was written by John Tiffany, Jack Thorne, and Ms. J.K. Rowling herself.
The play is the London production that debuted the same day as the book's release — July 31, which is Harry Potter's birthday.
The book itself was a very fast read considering since it is in the form of a play. Like always, it was filled with magic and a lot of unexpected events throughout the course of the book.
The play begins nineteen years into the future. Harry is still married to Ginny and they have three children: Lily, James and Albus.
Unlike Lily and James, Albus is different from his siblings. He's quiet, shy and doesn't necessarily like the spirit of Hogwarts. On his first train ride to Hogwarts, he befriends Scorpius Malfoy, Draco Malfoy's son. The two become best friends when they're both placed in Slytherin.
Harry has trouble with Albus throughout the years and Albus is having trouble living in the shadow of Harry's legacy. One night when Albus is home,  Amos Diggory, Cedric's father, comes to their home with his caretaker, Delphi. Amos asks Harry if there is any way that the Ministry can use a Time- Turner (a device that helps wizards travel back in time) to go back to the Tri-Wizard Tournament and bring back Cedric.  Harry tells Amos that this can't be done because Time- Turners have been destroyed and meddling with time could be tragic.
After a vicious fight with Harry, Albus is ready to get back at his famous father and make his mark on the world.  Him and Scorpius decide to steal the Time-Turner to finally save Cedric.
Albus and Scorpius realize the importance of family, friendship and most importantly, love.  Like all of Rowling's books, this story is wildly imaginative. We finally get to see how our heroes and their families are doing after all these years.