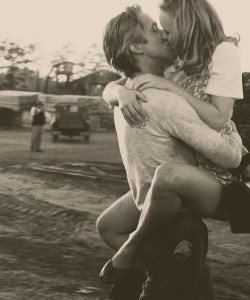 I nodded my head up and down as I listened to Justin Timberlake's song, "My Love" while my eyes were glued to my biology homework. My silver flip phone lit up next to my notebook.
Hey beautiful.
I couldn't help but grin whenever I received a text from Theo. Ever since I had gotten back from Christmas break, Theo and I had been inseparable. All throughout the cold, snowy days of January Theo warmed my heart. I loved being so close to his family while my family was so far away. He was the missing piece to my puzzle.
Instead of texting him back, I opened my flip phone and decided to call him back. My heart sped up as I waited for him to answer the phone.
"Ciao, bella donna," he said when he picked up the phone.
"Hey."
"What are you doing?"
"I'm doing my bio homework," I said.
"No fun," he replied.
I knew that he was at home right now watching TV. Since was taking classes at the community college, he didn't get nearly as much homework as I did. He usually finished his work after class and wanted to use that time to hang out with me. Unfortunately, I didn't really have a lot of free time.
"So you're not up for going into Oak Park to see a movie?"
"I'm sorry, babe," I sighed. "Tomorrow is Friday. I will see you all weekend. Let's plan out our weekend."
"Okay," he began. "Tomorrow, staying in at your dorm and watching a movie. Saturday, lunch and dinner at my house, and hanging out with you all day. Sunday, brunch."
"Yes!"
"I can't wait to see you," Theo said.
"I can't wait to see you."
It was true. I had fallen hard and I had fallen fast. This was unlike me, who usually always had her guard up and didn't let a guy dictate my actions. But, this was different. This was special.
***
"Hey, I'm here," he said.
"Okay, I'll come down and get you." I hung up my phone and went downstairs to the lobby of the dorms. I opened the door for him and I let him up to my dorm.
"Finally," he said. He wrapped his arms around me so my head was in his chest. After he pulled away, he found my lips and began to kiss me deeply. I returned the kiss by wrapping my arms around his waist.
We sat down on my bed and popped in a movie. Just like in high school, saying, "come over to watch a movie," was code for "come over and make out." After kissing for several minutes he stopped and looked at me.
"Bianca, I have to tell you something."
"What?"
"I love you."
A huge grinned formed across my face.
"I love you, too."