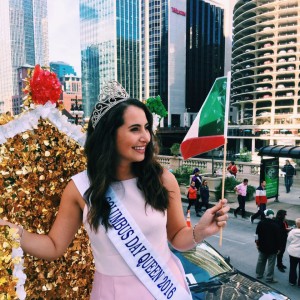 Where did you grow up and go to school?
I grew up in Western Springs. I went to Lyons Township High School and I graduated in 2013. I currently go to Loyola University. I'm studying communications and I'm graduating this May.
Why did you want to participate in the Columbus Day Queen pageant?
We go to The Shrine of Our Lady of Pompeii. My dad got the newsletter about the pageant e-mailed to him. I thought it would be something great to do and it was sponsored by my church. I had all the credentials to participate in the pageant. My parents really wanted me to do the pageant.
What did you have to do to participate in the pageant?
I had to write about what being Italian means to me and why I wanted to be Miss Columbus.
What did the pageant consist of?
There was a gown portion, a dance number and a question and answer section. They eliminated all the girls until there was only a top five, and then a final three. The three of us went offstage so we couldn't hear the question asked to other contestants. Then, the winner was announced and it was me!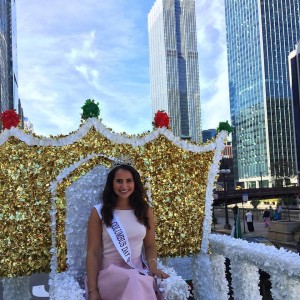 How did you feel when you won?
I was so, so shocked! My parents really wanted me to do it. I had never done pageants. I was really, really happy. I had never seen my family so proud of me, especially my dad. My mom couldn't be there because she was diagnosed with leukemia at the beginning of the summer. She's currently in remission. But, my family was so proud of me, and I knew my mom would be proud of me. I felt like I was winning it for her since she really wanted me to do it. I couldn't wait to tell my mom!
What are your duties as the Columbus Day Queen?
I will be queen for one year. On Oct. 10, I was in the Columbus Day parade on a float. The Saturday before, I participated in the Sons of Italy dinner dance. I will be making appearances around the Chicago area wearing my crown and sash. I will also be volunteering at different events and representing the Italian community in Chicago.
What part of Italy is your family from?
My dad is 100 percent Italian.  His family is from a town called Massa e Cozzile in Tuscany and Prezi in Sicily. My mom is 50 percent Italian. My mom's family is from Castronovo, Sicily.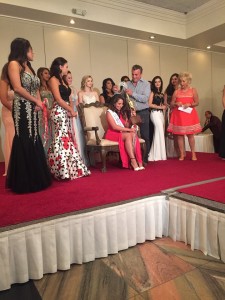 What does being Italian mean to you?
To me, it's all about family. My family goes above and beyond for me. We hold family to the highest importance. My cousins are all my best friends. My aunts are all my second moms. Being Italian, it's coming together and cooking. My parents are big cooks. My family really instilled in me that family is forever and will always be there. Being Italian is family, food and love!
How do you feel about people who are trying to discredit Columbus and get rid of the holiday?
I think we need to be aware that it happened. It happened a very long time ago. It's an important holiday to Italian Americans. We kind of have to be aware of how Chicago is a melting pot. There's so many different cultures in the Chicagoland area. It happened a very long time ago, so it can be difficult.
What are your plans for the future?
I want to get to talk to young girls in the Chicagoland area that are of Italian decent. I want to be a role model for them. It's important to hold on to your Italian heritage. If you're linked to who you are, it's so important.  I want to be a support to them. It's such an honor!