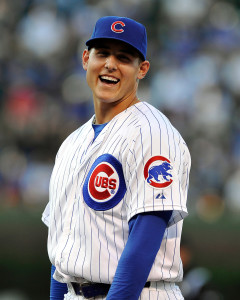 His full name is Anthony Vincent Rizzo.
His birthday is August 8, 1989.
He's 6'3″.
He is Italian American.
He was born in Fort Lauderdale.
He attended Marjory Stoneman Douglas High School.
His parents are John and Laurie.
He has a brother named John.
He is a fan of the 'Rocky' movies.
In his high school year book, he quoted Vince Lombardi: "It's not whether you get knocked down, it's whether you get up."
He was traded to play for the Cubs in 2012.
He was diagnosed with Hodgkin's lymphoma in April of 2008.
By September of 2008, he was in remission.
In 2012, The Anthony Rizzo Foundation began, which is a non-profit organization benefiting cancer research and the families fighting the disease.
He is no. 44.
He twerked on SNL!
He revealed on Jimmy Fallon that he broke his phone during the NLCS, but didn't want to have it fixed in fear that the Cubs would lose.
He is going to be in Kris Bryant's wedding.
In 2012, he became the first Chicago Cubs player in the franchise's history to accumulate three game- winning RBI's in his first five minutes as a Cub.
He led the Cubs to be the 2016 World Series Champions!