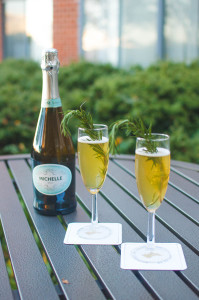 Prep Time: 5 Minutes
Total Time: 5 Minutes
Ingredients:
6 oz apple cider
2 Tbsp orange liqueur
2 Tbsp maple syrup
Bottle of Prosecco, chilled
Rosemary Sprigs for Garnish
Instructions:
Combine apple cider, orange liqueur and maple syrup in a cocktail shaker filled with ice. Shake until container is thoroughly cold.
Pour mixture into champagne flutes and top with the chilled Prosecco.
Garnish each glass with a sprig of rosemary.
Notes:
Want a Mocktail? Easy. just substitute the Prosecco with some sparkling water.
Source: creative-culinary.com