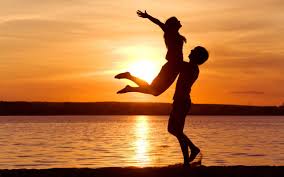 A few years ago, my family wanted to go to the Bahamas for two weeks. At first, I didn't want to go. I wanted to work my part-time job, earn some money and spend evenings with my friends. My parents insisted a long get away would be good for me. I had taken all AP courses throughout my high school career while working a part-time job. They said I truly needed a break from "it all."
As soon as the plane landed, I was amazed at the clear blue ocean, fruity smells in the air and white, sandy beaches. It was Heaven on Earth. I spent the first few days walking along the beach and drinking large, creamy cocktails.
On the third day of our trip, I went down to the pool to read my book. After 45 minutes of lounging, a boy sat down next to me. He had dark curly hair and hazel eyes. His skin was tan from the sunny weather. He was stunning.
His name was Mark and was from Santa Barbara. He was in a band, loved to draw and had dreams of going to UCLA. Our connection was immediately electric.
I spent all of my days with him at the beach and at night we would go for late night dips in the pool. His kisses were like magic. Each day, my tanned skin became darker as I became engrossed in the salty water and hot sand. I was falling more and more in love with Mark.
One night, we went down to the beach. We listened to waves crash against the shore. Mark held me tight against him as I breathed all of him in. We made love right there on the beach. It was so romantic that I thought my heart was going to burst.
When it was finally time to leave, I cried. I didn't want to leave Mark. He promised that we would stay in touch. My summer was the best one of my life. Mark had totally turned my world upside down into a mix of sun, happiness and passion.
When I finally got home, Mark and I stayed in touch via social media.
Mark and I are both going to UCLA in the fall, so who knows what may happen…