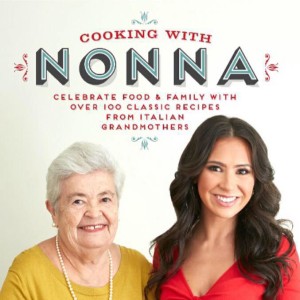 Your family is from Mola di Bari. What traditions have they passed down to you?
There are [a lot] of people who are from Mola di Bari that also reside in Bensonhurst, Brooklyn. Our traditions are all around us, even today. We have our lives filled with Italian traditions from Mola di Bari. One of the biggest holidays we celebrate is La festa della Madonna Addolorata from the Van Westerhout club.
On Good Friday, we also make the scalcione, or onion pie from Mola di Bari. You're supposed to fast and just eat scalcione. We then watch the procession in downtown Brooklyn and go to Mass afterwards.
There are a lot of stereotypes about Bensonhurst, such as the Bensonhurst Spelling Bee. What do you think about that?
I try just to be light-hearted about things like that. I was an actress and my mom is an actress. It's inevitable that Italian American culture is going to be portrayed a certain way. Some of it has a lot of artistic value. I love "The Godfather" and mob movies. I like a very well made film about the mob. I like Francis Ford Coppola and Martin Scorsese. I have a problem with badly written and poor production value about Italian American lifestyles. I think certain parts of stereotypical movies are funny. There are people in Bensonhurst who talk like that! I can't make them go away! Take it for what it is, and laugh. Bensonhurst is not really like that anymore.
The culture of Bensonhurst and Italian Americans is very rich. It was the mecca for Italian Americans. There were Italian movie theaters and signage that was only in Italian. It was a transplant of Italy.
Did you originally want to be an actress?
Definitely. That was my first love. My mom is an actress. My mom is a playwright, author, novelist and fine artist. She really instilled the fine arts into my brother and I.
I loved acting and becoming someone else. I didn't love the acting business, and it is a business. It's not about how good you are, it's how good you are at the business. I was disenchanted with that. As a woman, you have a very small window to be successful.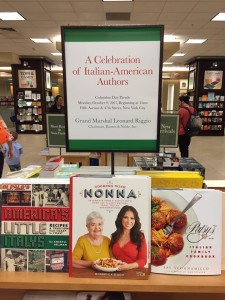 What role did you play on The Sopranos?
I was an extra. It was established that I was a family member. So, I was in all the wedding scenes and funeral scenes. The Sopranos was one of the best film sets I've ever been on. Every time they broke for lunch, they ate better than any production you could ever imagine. They would have lobster and steak every day! All the crew ate together with the cast, which is really unusual on a movie set. They were all a lot of fun and really nice people. I really enjoyed that experience. I started when I was 11 and I did it until the show ended.
How did Cooking with Nonna begin?
I was in college. I was studying to be an Italian language teacher. I majored in Italian language and Italian literature and minored in secondary education. When you're an Italian girl from Brooklyn and you don't know what you want to do, you become a teacher and hope you get married by the time you're 25. It really didn't work that way for me. I was a sophomore in college and my dad has a background in telecommunications and asked me what I wanted to do. As a joke, I said I was going to have a cooking show. He thought it was funny and said it should be about nonna and her recipes. At the time, I lived with my nonna because good Italian girls aren't allowed to dorm at college.
When you grew up the way I grew up, you take in the way people boil water, set the table and stir the sauce. I didn't realize people didn't eat fresh foods and ingredients.
My father ended up buying the web domain cookingwithnonna.com, and a week after that, he built a set! It was the dawn of YouTube. I feel really old, because there was no Instagram when I started!
 When you're an Italian girl from Brooklyn and you don't know what you want to do, you become a teacher and hope you get married by the time you're 25.
How did Cooking with Nonna explode?
We launched the website in 2009. I went to see a psychic before I launched the website. He told me in one year I was going to be on the Food Network. Of course, I didn't believe him. I thought he was crazy. But then I got the call to do the Food Network competition show, and a year after I saw the psychic I was on the show.
The cookbook came about in 2015. I was approached by Race Point Publishing. My editor Jeannine Dillon was a fan of the show and a fan of me on Facebook. She reached out to me on Facebook and said I should write a book. The book came out in March of 2017.
I've been doing this a long time. Sometimes people can see when you start to scratch the surface of success and they think that it just all happened yesterday. But, it takes 10 years to be an overnight success.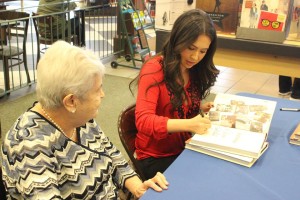 How do you find the nonne?
We find them in many different ways. In the beginning I just knew a lot of them. Then, they began to write in and want to be on the show. Now, I have too many grandmothers that want to be a part of the show and the book! I'm just Italian and I know all these old Italian grandmothers and they're all extraordinary in many different ways.
What's the process like for filming your show?
We film the show at my parent's house in New Jersey. It's the original set that my dad built ten years ago. We changed production crews quite a bit over the years. Now, it's my cousin Johnny who shoots and edits. We have two cameras. My dad operates one of the cameras. Certain recipes take longer than other recipes. In any day we can shoot between two to five shows. It depends. It does take a long time. A five-minute video could take hours.
Where in Italy will you be touring?
The tours are something really special to me. I started doing them six years ago. It's a way for people to visit Italy from my point of view. Italy is such an important part of my life. I grew up going to Italy every single year for three months since I was a little girl. I got to stay with my zia at her villa on the water. As an American, I have a very different experience on Italy and the Italian experience. I want to give that to people because I think it's so amazing. You shouldn't go to Italy and run through ten different cities.
We take people to the Amalfi Coast and Puglia, which is where I'm from. We're really able to deliver a very personalized experience in Sorrento. When we go to Puglia, I really know a lot of people. I have great relationships and we're able to deliver an awesome personalized experience. We pick lemons and olives and cook amazing meals.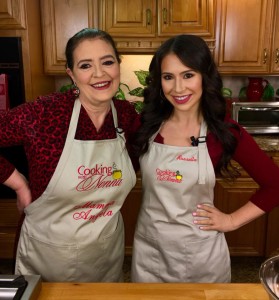 What's your relationship like with Adriana Trigiani?
I was always inspired by her work. The force of nature that is Adriana Trigiani isn't quite as apparent until the moment you meet her in person. When I met her, she informed me that she already had my book. I was so incredibly honored. I couldn't believe this 16 time New York Times best-selling author even knew who the hell I was! After about 30 seconds, she reminded me of one of my family members. That's the magic of her. She has a very electric presence. I think she's brilliant.
I noticed you walked in the Columbus Day parade with her.
I'm not committed to many political causes. With the nature of what I do, I keep my persona about Italian culture. I don't want to get bogged down with politics. But, when it comes to the Columbus statue and Columbus Day, I'm really passionate about maintaining it. I think it's unconstitutional to take away a holiday that has been around for so many years and to take down a statue. I don't agree with it and if I can do something small or big, I'm going to try to make sure it sticks around.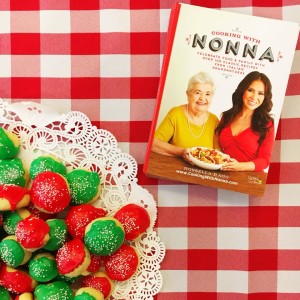 Are you writing another book?
I'm writing another book right now.
Do you ever run into any challenges?
I wasn't prepared for the storm that is writing a book. It's hard to maintain my social media, shooting the show, doing events, getting out there and promoting the book. I try to respond to every person on Facebook and Instagram. It's challenging to do all that and have a life. But, Italian women can do it all!
When are you coming back to Chicago?
Hopefully, the summertime! I generally do Festa Italiana in Milwaukee. I love Chicago, the area and the culture. I have friends around Chicago.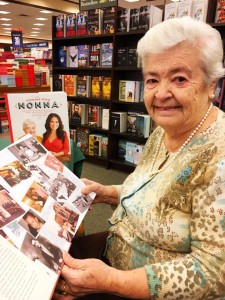 Rossella's Favorites:
Favorite Movie: "Moonstruck" and "Only You"
Starbucks Order: At home, I drink a four shot espresso and I drink it all in a coffee mug! At Starbucks, I enjoy an espresso con panna. I also like brown coffee.
Favorite Band/ Singer: Michael Buble
Favorite TV Show: The Nanny
Favorite Place in New York: West Village