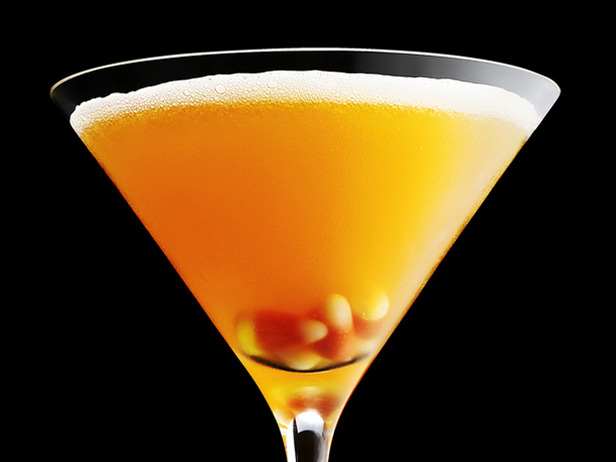 Candy Corn Cordial
Ingredients:
For the infused vodka:
1/2 cup candy corn
1 1/2 cups vodka
For the Cordials:
2 ounces of orange liqueur
Juice of 1/2 lemon
1 large egg white
Candy Corn, for Garnish
Directions:
Infuse the vodka: Combine the candy corn and vodka in an airtight container; set aside for at least 3 hours, then strain.
Make the cordials: Add 4 ounces of the candy corn vodka, the orange liqueur, lemon juice, and egg white to a cocktail shaker filled with ice.  Shake vigorously for at least 30 seconds.  Strain into 2 chilled martini glasses and garnish with candy corn.
Recipe: foodnetwork.com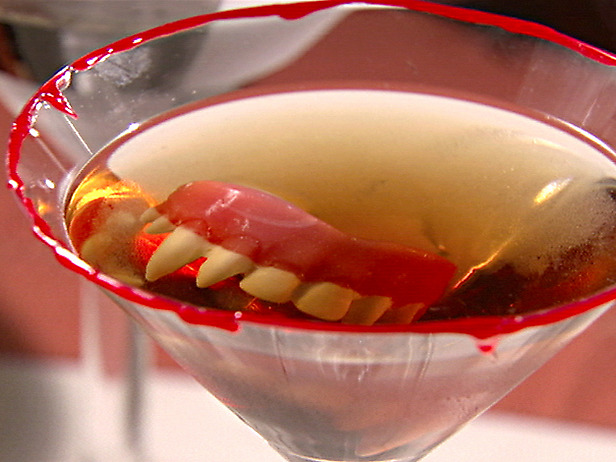 Vampire Kiss Martini
Ingredients:
1 part vodka, chilled
1 part Champagne
1 part Chambord
Garnish with wax teeth/ candy corn/ blood orange slice
Directions:
Pour vodka in a martini glass, top with Champagne and pour a little of the Chambord over the back of a spoon to make it float.
Recipe: foodnetwork.com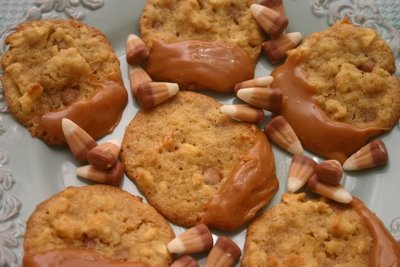 Taffy Apple Cookies
1/2 cup (1 stick) butter, softened
1/2 cup chunky peanut butter
1 egg
1 jar Taffy Apple Cookie Mix (recipe follows)
1 cup caramel apple dip
1/2 chopped peanuts
1.  Preheat oven to 350 degrees.  Beat butter and peanut butter in large bowl at medium speed of electric mixer until smooth.  Add egg and contents of jar; beat until well blended.
2.  Drop dough by rounded tablespoons 2 inches apart onto ungreased cookie sheets.  Bake 8 to 10 minutes or until edges are lightly browned.  Cool cookies 2 minutes on cookie sheets.  Remove to wire rack; cool completely.
3.  Spread 1 teaspoon caramel apple dip on each cookie.  Sprinkle with chopped peanuts.
Makes abut 4 dozen cookies
Recipe: Halloween Food, Fun & Crafts