The boy band is back!  And with that in mind, pop-rock group Once Upon a Time is on fire.  Hailing from Phoenix, Arizona, OUAT has thousands of "likes" and followers on both Twitter and Facebook.  The band consisting of Keaton, Andrew, Bryan, Jamie, Nate and Mark have proved to fans they have what it takes to be the next best thing.  Emme chatted with Jamie, Nate and Andrew about  girls, music, and world domination.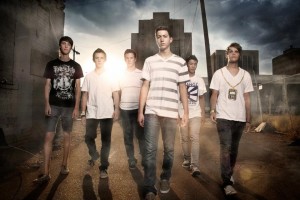 emme:  How did you get the band name Once Upon a Time?
Jamie:  It's kind of the whole idea of doing what you want to do.  Making your own fairy tale.  Making your own story for yourself and going and doing what you love, and what you want to do.
emme:  I like that a lot!  How did the band begin?
Jamie:  I knew Andrew from when we did musical theater together.  We became friends there and he would come up to me backstage and say 'oh, I have this song idea!'  And we would jam out on guitars backstage, and we talked about starting a band.  I started another band for fun, and Bryan was the bass player in that band.  Around that time, Andrew messaged me and told me that he was going to start a full band, would you like to join?  I was like, 'yeah, of course!'  And Mark and Bryan have been family friends forever, so when we were looking for a piano player, Andrew automatically thought of Mark.  Our original guitar player left the band, and we needed a new guitar player and Mark knew Keaton from school.  That's how it happened.
emme:  Have you been playing since you were little?
Jamie:  I've been playing guitar since 4th grade.
emme:  What theater did you do when you were younger?
Jamie:  It was in the local theater here.  We did Christmas Carol together, and then we did Honk together, which is the story of the Ugly Duckling.  On YouTube, you can also see us singing together for that show.  Also, The Sound of Music.  I was the uncle.  Andrew was the lead.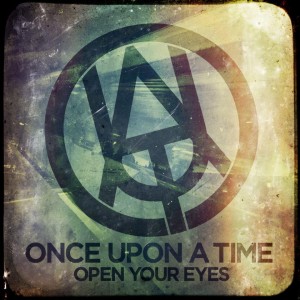 emme: Can you tell me a little bit about your personalities?
Nate:  I'm the sarcastic one, and honest.
Jamie:  He's the one in the band, and we have a new idea that we're all stoked about, he's the one to say, 'no, that's stupid.'
emme:  He's kind of like the parent of the group?
Jamie:  Andrew is like the mom.  He takes care of us.  Bryan is the cool guy.  He's the coolest guy you'll ever meet.
emme:  Have you guys ever met or performed for any celebrities that you admired?
Jamie:  Recently we opened for The Scene Aesthetic… I think it was sophomore year.  All sophomore year after that album came out that's all I listened to.  It was awesome opening for him.
emme:  How did you go to high school and be in OUAT?  Did any fans ever show up at school?
Jamie:  Nothing crazy like that ever happened.  I think the craziest thing that ever happened was the other day when we went to the Dark Knight Rises movie premiere a girl asked to take a picture with us.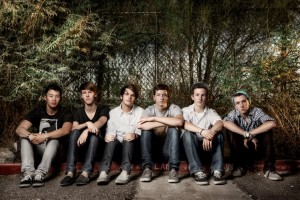 emme:  Are you currently signed with a record label?
OUAT:  No.
emme:  So many millions of people across the country are trying to get a record deal.  How are you going to do that?
Jamie:  We just want to play as many shows as we want.  Try to promote hard and to get our name out there and build a fan base.  And write music that we want to write and whatever happens, happens.
emme:  Do you currently go to school?
Jamie:  We just recently graduated high school.
emme:  Do you plan on staying local for college for the band?
Jamie:  Both of us plan on going to ASU this year.  Andrew is the oldest, he's 20, he actually goes to college in St. Louis.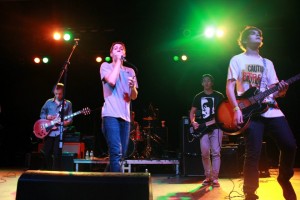 emme:  How does that work? Does he fly home every weekend?
Jamie:  Everyone says the same thing.  It works.  That's a good question.  We don't even know how it works out.  It just kind of happens. Just the Internet, and with writing songs, we record it and send it to him.  With practicing , just all the instruments will get together and be perfected, so when Andrew gets back in town, we put it together.  (Door bell rings) Who's at the door?  He flies in a day or two before a show and we just pop them in.  He'll either say it's awesome or want to change a few things.  We'll collaborate before a show.  Oh hey, look who's here?  Look who showed up?
(Andrew walks in)
We're just talking about you living in St. Louis.
emme:  Hi, Andrew! How do you make it work living in St. Louis?
Andrew:  I don't know.  A lot of online communication.  We're still in contact everyday with each other.  It's a lot of texting, sending song files, video files, and song ideas and stuff.  It's worked so far.
emme:  What kind of bands did you listen to growing up?
Jaime:  I'll admit it, I was a big Spice Girls fan.  I'm not ashamed at this point in my life.
Andrew:  I really liked Backstreet Boys.
Nate:  I listened to all different music.
Jaime:  Oh, come on, Nate!
Nate:  I don't know.  But… uh… I don't know.  I listen to heavy metal and hardcore.
emme:  What was your favorite Spice Girl?
Jaime:  I was a baby spice fan. Now, I would choose Victoria Beckham.
Andrew:  I liked that one really girl band, Bewitched.
emme:  I remember them!  So what is your favorite song to perform on stage?
Andrew:  I like "Forever and Ever."
Jaime:  I also really enjoy our cover of "Call Me, Maybe."
emme:  Who is your favorite mainstream band right now?
OUAT:  One Direction.
emme:  So do you guys have girlfriends?
Jaime:  I do, yeah.  Keaton and Bryan are also in relationships.
Andrew:  I'm pretty sure me, Mark and Nate will stay single.  We've been single the whole time.  We're the nice guys, so we stay single.
emme:  So what do the single guys look for in girls?
Nate:  Uh… a nice girl.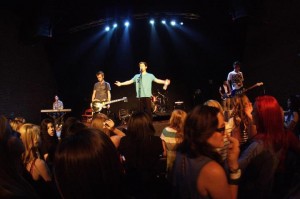 emme:  Who's your celebrity crush?
Nate:  Victoria Justice.
Andrew:  Selena Gomez.
Jamie:  Demi Lovato.
emme:  I'm glad you guys prefer brunettes!  Smart choice.  So how do you balance school, a band, and girlfriends?  What's the secret?
OUAT:  No sleep.
emme:  I know when I was in college there was no time for anything let alone being in a band.
Andrew:  Like I said, I run on 4-5 hours of sleep a night.  I get my school work done and after that if nothing is going on I do band stuff all night.  If something is going on, I'll go hang out with friends.  I'm still able to see friends.  But, my down time is focused on band stuff.
emme:  What are your plans for the future?
Jamie:  It kind of depends on a couple of things.  For 2012, we'll have at least one new song.  And then, we can pretty much guarantee an EP release in the spring of 2013.  Pretty much guarantee on that, but that depends on timing of certain events.  We're all involved with school, and Mark and Keaton need to finish high school.
emme:  Would you ever stop school to be in the band?
Jamie:  That would be interesting.  We would love to get to that point.  That's our goal as a band.  I think we'll get to that point when we get to it. Speaking in an English accent:  We want to be the biggest band in the world!
emme:  How does your family react to all this success?
Jamie:  My parents don't even take notice it's happening.  If I tell my mom this girl from Paris tweeted me, they just go, 'okay, dinner's ready!'
emme:  Who inspires you to write your songs?  Is it girls, high school, family?
Andrew:  I try to not write about girls as much as possible.  Because all of my failed relationships.
emme:  Aw!  Well, that's all the questions I had.  Did you want to add anything else?
Andrew:  I think we just want to say to all the fans, thank you so much.  I think we're still amazed every day that we have this support that we do.  We're very humble and blessed and do big things.  It means a lot to us, so thank you for that!
To learn more about Once Upon a Time, visit:  
Facebook:  http://www.facebook.com/iamonceuponatime
Twitter:  https://twitter.com/imonceuponatime
YouTube:  http://www.youtube.com/user/iamonceuponatime?feature=watch