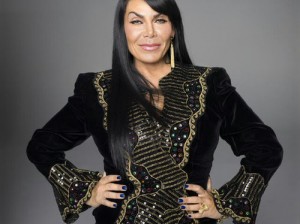 What does the audience have to look forward to at the end of this season?
With this group of women, who knows how the season will end!
Were you skeptical about exposing controversial topics on air?
The issues I discuss on air might be controversial but they are my issues, so I felt I could do one of two things:  live in silence and pain like I have been. Or, I could speak out and help myself, while at the same time helping others facing similar issues.  If you know anything about me, I always have the need to help.
 How did you deal with watching Junior and your father go to jail?  What got you through it?
I could care less about Jr.– as far as I'm concerned that's a dead issue. In regards to my dad it hurt like hell, but he's a man and I knew he could do his time without a problem. So between that and prayer, I made it through.
Have you gotten any backlash from friends or family about this show?
Let's put it this way- if they had anything to say, they said it. And those who brought me down are no longer a part of my life. The new Renee keeps it moving forward.
Is it not seen as taboo to discuss affiliations with the mob today?
What Mob?? LOL- that's my story and I'm sticking to it.
 Since The Godfather, the media has been fascinated with the mob.  Why do you think this is?
It's a lifestyle that has always been considered "untouchable"- a world of "their" own.  So people are intrigued with the unknown and iconic movies like The Godfather, Casino,  and Good Fellas.
What are your plans for the future?
My MobCandy brand is myself and my son AJ's future. He's my driving force. I'm going to do anything and everything to make my  MobCandy shoe line a success story.
What was the hardest part about sharing your recovery on TV?
Sharing my recovery is a blessing. It's been said that only an addict can save another addict.  Although Episode 6 with my son was the hardest thing I ever had to watch, I hope it helps other parents or kids suffering from addiction. So if that's my consequence for self-medicating, I'll take it and then pay it forward.