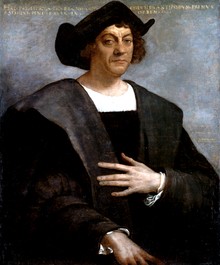 Being an Italian- American, it can be frustrating when people talk bad about Columbus.  Columbus Day is our one and only holiday, people!  I did some research online and came across this really awesome blog post, and I decided to share it with Emme readers!
A lot of allegations against Columbus are based on upon the claims of a man named Francisco de Bobadilla.  He wanted Columbus' job as Governor of Hispaniola, thus tried to discredit Columbus.
The King and Queen of Spain did send de Bobadilla to the New World because there were complaints about him.  However– these complaints had nothing to do with the Native Americans.  There were complaints that the Europeans weren't getting enough out of the New World as they wanted.  Therefore, that meant that Columbus was protecting the Native Americans.
How would any one of us know about what happened in the year 1500?  I don't think Columbus updated his Facebook status to tell everyone about what happened in the New World.  Please.  
ANY European would've spread diseases to the Native Americans.  No matter who was there first or last.  Why do kids get sick at the beginning of the school year?  It's the same thing.
Most explorers came to the New World to conquer.  Columbus wasn't the last explorer to make a splash with the Native Americans.  But, for some reason, he's the only explorer to take the heat.
Source:  justfiedright.typepad.com