Cookies, cookies, cookies!  Who doesn't love a delicious Christmas cookie?  For those of you who love cookies and parties, hosting a cookie exchange is a great idea for you!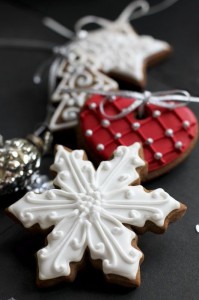 Get out your favorite recipes and invite over friends, co-workers, and family for an afternoon of cookie and Christmas delights!  Bake your cookies ahead of time and be sure to wrap them with beautiful holiday ribbons and tins.
Baking together can be fun, also!  If you have the time and kitchen space, have all of your friends bring their favorite recipes and bake your cookies together.  If you want to keep your party less complicated, have guests bring their already baked cookies.
This is a busy time of year, so make sure to tell guests about your cookie exchange party a few weeks in advance.  You can mail them a pretty invite or just create an event on Facebook!
Display all of your cookies on festive holiday dishes.
Serve hot chocolate and put on a fabulous Christmas playlist!  Emme's favorites include Il Volo's "Buon Natale," Glee, Andrea Bocelli's "My Christmas," and Josh Groban's "Noel."
Cookie Exchange!
Ask each guest to bring three dozen cookies.
Each person at your party can swap and share cookies!
Afterwards, you will have several kinds of delicious cookies– that you didn't even have to bake!