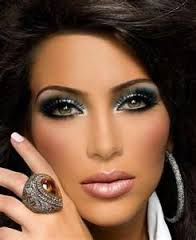 We're days away from New Year's Eve!  Have you decided how you're going to wear YOUR makeup?  Makeup artist Nicole Sellers gave me the scoop on how to rock your look this New Year's Eve!
According to Sellers, New Year's Eve is the perfect time to experiment with "bold colors, shimmer, and playing up your style.  Really, anything goes!"  If you want to play up your either your cheeks, lips, or eyes, go a little lighter with the other two.  It can look a little overdone if all three are done up at the same time.
Sellers loves the TIGI high density eye duo in glitz.   "It's got a really cool gold and silver combination of shadows that can be worn alone, or with the TIGI liquid enhancer to make the colors really pop," she said.  Sellers also loves the lipsticks and lip liners by Urban Decay.  They bring a pop of color to your lips.
Also for the big night, try contouring your makeup for a great New Year's Eve look.  Sellers recommends the multivitamin powder firm eye cream by Dermalogica for under eye dryness and fine lines.
Make an appointment with Sellers!
Frank Gironda Salon & Day Spa

Wheaton, IL
(630) 653-5700