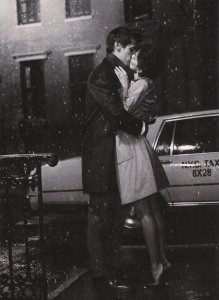 John and I were driving home from Oakbrook Mall.  With the heat turned up on high, I was finally able to warm up.  This had been the most brutal Chicago winter… ever.  Today, the high was 4 degrees.
I rested my head on his shoulder as he drove.  I loved breathing in his scent of his Aqua di Gio cologne, his wooly coat, and the cold winter air all in one.  It always made my head dizzy and my heart fluttering.
"Are you warm, baby?" he asked.  I looked up at him and kissed him gently on the lips.
"Yes."  Since we met two months ago, my life has been a complete world wind.  Before John, I was in my 30's and as single as you can get.  All I did was work, go home, watch TV, eat and go to bed, and repeat the next day.  My life had become a whole bunch of boring.  After meeting John the day before Christmas Eve in a busy Chicago department store, my life literally came alive.  Even in the midst of a dreary, cold Chicago winter, every time I looked at John I felt bursts of oranges, pinks, and warmth.
Throughout the plunging temperatures of January, our lives consisted of fancy dinners, dates in the city, and of course, cozy nights in.  Sometimes I liked those the best.  I loved opening up a bottle of wine and watching a movie with John.  His kiss could completely put me in a frenzy.
"What do you want to do tonight for dinner?" he asked as we drove down Grand.
"So what do you have planned for tomorrow?"  I asked, trying to change the subject.
With tomorrow being Valentine's Day, John said he had a special surprise for me.  He wouldn't tell me what it was, no matter how much I prided.
"How about we cook dinner tonight?"  John laughed.  He wouldn't tell me what we were doing to save my life.
When we finally got back to my apartment, John helped me take in all of my bags.  I took off my jacket and started the water for the pasta.  I began taking out bread, cheese, plates, and wine while waiting for the water to boil.  John came up from behind me and turned off the stove.
"How about we just order in?"  He pulled me close to him and gave me a kiss that sent butterflies throughout my body.  "You're too beautiful to cook."  With that, he smothered me with kisses.
***
The next day was Valentine's Day.  He told me to be ready by 3:00 to carry out his "big surprise."
Today, I felt more motivated than just veg on the couch like most Saturdays.  My plan this morning was to go to the gym, come home and shower, and get ready for John's surprise.
I walked into my bathroom to brush my teeth, when I noticed John left his phone on the counter.
Don't look at his phone, Melissa.  Don't look at his phone.  But, what would one little peek do?  With that, it began to light up.  He was getting a text message from someone named Robin.  It read:
Hi John!  It was great meeting you this morning for breakfast.  I really think something special is going to happen.  😉
My entire body began to feel hot.  Who the hell was Robin, and why was he meeting her this morning?
Now, I had to look at his messages.  His entire mailbox was filled with messages from Robin.
Can't wait to meet Saturday!
You are such a sweetheart!
Any girl that gets you is so lucky! 
My eyes began to fill with tears.  In the past, I avoided relationships because all men were the same.  I always got attached and ended up getting hurt.  I thought that John was someone different.  But, I guess not.  I guess he was the same like every other asshole guy.  How could he do this to me on Valentine's Day?
My cell phone started ringing in my bedroom.  I was getting a call from a weird 773 area code number.
"Hello?"
"Hey, babe, it's me," John said.  "I left my phone at your house.  I'm going to stop by real quick to pick it up."
"You asshole!" I screamed.  "Who is Robin?  And WHY are you texting her?  I knew you were too good to be true!  Leave me alone!"
I hung up the phone and jumped on my bed.  I started sobbing.  How could this be happening to me?  I thought John loved me!  I thought that he was "the one."  I guess I was learning the hard way that fairy tales don't exist.
***
John called my cell phone all afternoon.  I just kept ignoring my calls.  Then he tried ringing my door bell.  I just kept ignoring him.  Around 7:00 p.m., my sister Nella called me.
"You have to let John upstairs," she said.  "You have to hear what he wants to tell you."
"Nella, can you believe what he did to me?"  I cried.  He's cheating on me!  Do you think I'm a fool?
"You just have to trust me on this," Nella said.  "Please let him up."
I hung up with Nella and stuck my head out the window.  John was below me with a dozen pink roses– my favorite.
"Juliet, may I come up?"
He looked so damn handsome.  He had been standing outside in the cold all day long waiting for me.
"Yes."
John was in my apartment within moments.  His shoulders broad, his hazel eyes tearing up, his thick black hair slicked back, made me feel guilty.  His beauty was mind-boggling.
"John, I knew from the beginning there must be something wrong with you.  You're too perfect.  And I was right.  I guess you were cheating on me the whole time."  I handed him his cell phone.  "Here's your phone.  Take it and have a nice life.  Don't make this any harder than it has to be."
John gave me a smirk.
"Melissa.  You are crazy," he said.  "And that's why I love you."
Now I've really had it.  "Okay, please leave."
"Melissa, Robin, is an event planner.  I met with her this morning because I had rented out a restaurant downtown with a band, catering, roses, and champagne.  I've had this planned for weeks."
John got down on one knee.
"Melissa Nicole Pugliese, will you marry me?"