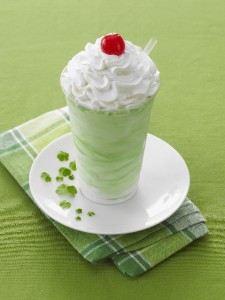 2 cups vanilla ice cream
1 1/4 cups 2% low-fat milk
1/4 teaspoon mint extract
8 drops green food coloring (optional)
Blend ingredients in a blender until smooth. Pour into two cups.
Another alternative? Two cups mint chocolate chip ice cream blended smooth with 1 1/4 cups milk (although you will have little chunks of chocolate in your shake — the horror!).
Source:  thestir.com