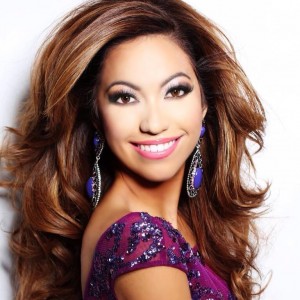 Tell me about where you grew up.
I was born in Chicago.  My mom and dad's side of the family is from there.  I moved out to Vegas when I was four.  My mom wanted to follow her parents out here.  We've been living here for fourteen years!
When did you become interested in pageants?
Since I was in high school.  I would always watched Miss USA and Miss America.  Because of my busy schedule in high school, I never had time.  Of course, pageants are expensive.  I didn't have a lot of money to do that when I was younger.
How did you get involved with your first pageant?
The casting agent messaged me on Facebook and asked me if I wanted to come out to a casting call.  Of course, I was really nervous.  It was my last year competing as a teen.  I went in and met with her.  She asked me a few questions and asked what my interests are.  The next day she messaged me on Facebook and wanted to offer me a local title and wanted me to complete for state.  I was so excited!  I was so shocked I got it!  I ended up getting the local title of Miss Teen Summerlin.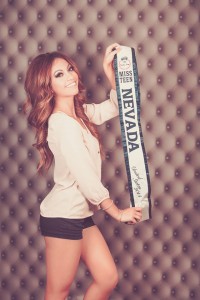 How did you go about competing for Miss Teen Nevada?
First, I picked my platform which is Teen Obesity Awareness.  I started visiting schools and reading to kids about how working out is a good thing.  I partnered with the Summerlin Half Marathon, and they sponsored me for Miss Teen Nevada.  Then I competed for the pageant in May.
Tell me about the day of the competition. 
It was three days.  The first day was orientation and rehearsals.  The second day was meeting with judges and more rehearsals.  The interviews with the judges is the most important part.  The final was swimsuit and evening gown competition.  It was a great experience!  It was so much fun!
Since you won, what have you been up to?
I have done a lot of appearances.  I did the Models for Mutts event.  [This is a fashion show that raises money for dogs.]  I got to walk the runway and see the dogs we were raising money for.  I've partnered with the cultural arts training foundation to combat my platform and I was recently a celebrity guest to Las Vegas Fashion Week.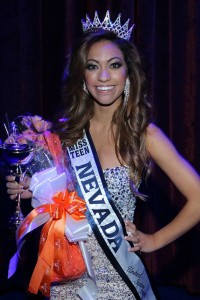 Did you compete for Nationals?
Yes.  I only had two months to prepare!  It was a rush for me.  June was all about training three days a week.  It was a lot.  I had to get all of my dresses and had to make sure my fees were all in.
How was Nationals?
I left Vegas June 30 for Washington, D.C.  Unfortunately, I only got top 20.  But, it was only my second pageant.  It was a really great experience.  I've never been to Washington, D.C.  Being there for the Fourth of July was amazing!
What's next for you?
I'm under contract until I give up my crown next May.  This time, it will be for Miss Nevada.  I have so many years ahead of me to keep competing and keep trying!