Game Night
Have a snack!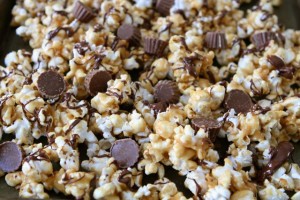 Reese's Peanut Butter Popcorn
8 cups plain popcorn (we use air-popped popcorn)
Fine salt
1/2 cup honey
1/3 cup granulated sugar
1/2 cup natural peanut butter
1/2 teaspoon vanilla extract
1/2 cup milk chocolate chips, melted
1 1/2 cups Mini Reese's Peanut Butter Cups
1. Place the popped popcorn in a large bowl and salt to taste. Set aside.
2. Mix the honey and sugar in a small saucepan and bring to a boil. Let it simmer for about 2 minutes, then remove from the heat and add the peanut butter. Stir vigorously until all the peanut butter is melted, then mix in the vanilla extract.
3. Immediately pour the peanut butter caramel over the popcorn and gently stir with a long-handled wooden spoon until it's all coated. Spread popcorn on a large baking sheet. Drizzle popcorn with melted chocolate and let sit until chocolate hardens. Stir in the Mini Reese's Peanut Butter Cups.
Source:  twopeasandtheirpod.com
***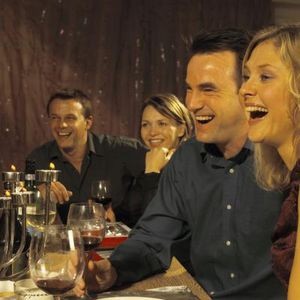 Games:
Celebrity:  Who am I?
When your guests arrive, hand them an index card with a name of a celebrity on it.  Have your guests mingle and ask each other questions about their celebrity.  Then, guess the celebrity.  Awards are given to those who guess correctly!
The Couples Game
Have each couple ask each other a series of questions.  Here are a few examples:
What's your partner's favorite food?

What's their dream job?
What is their best childhood memory?
If they could live in any time period, where would they live?
What was their favorite subject in school?
What is their favorite animal?
Who was their first kiss?
Then, have the men sit on one side and the women on another.  Have the men answer the questions about their wives, and vice versa.  Take points to see which couples get the most points.
The Lyric Game
Have each couple pull lyrics out of a hat.  They must sing the last phrase of the lyric, and guess the artist and song.
Source:  queen-of-theme-party-games.com