This past year I've been able to read some pretty incredible books.  With the help of a pretty fabulous librarian, (shout out to Denise Monegato!) I've been quite the book worm.  I've stumbled upon some of the best stories I've been able to get my hands on.  Take my advice if you're looking for a juicy read:
7.  If I Stay by Gayle Forman – 5 Stars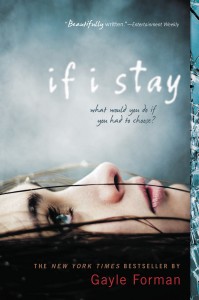 I know, I know, everybody loves this book.  Wrong.  This book was a huge hit with tweens, especially after the movie came out in 2014, but I didn't really like it.  Mia plays the cello, and has the perfect family.  One day school is canceled due to a snow day, and her parents decide to visit their friends in a neighboring town.  Their car hits a truck, and her entire family is killed besides her.  Mia must decide if she's going to stay on Earth, or "die" to be with her family.  Warning:  this book is depressing!  The ending is predictable.
6.  Leaving Paradise series by Simone Elkeles – 6 Stars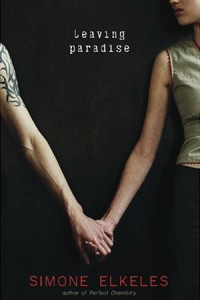 I LOVE Simone Elkeles, and had high hopes for this series after reading Perfect Chemistry.  Caleb is in jail for hitting Maggie in a drunk driving accident, leaving her with a serious limp and damages.  When he finally gets out of jail, they fall in love.  The first book is good, but I thought the second book, Return to Paradise, would be more enticing.  It took a long time for Maggie and Caleb to mend their patches in the second book.
5.  Insurgent by Veronica Roth – 6 Stars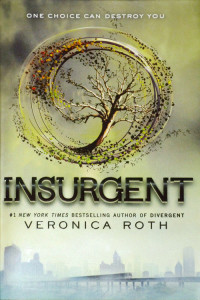 I absolutely loved Divergent, so I was stoked to begin Insurgent.  The book picks up where Tris and Four leave off.  But now, they must over throw Jeanine.  I thought that Divergent was much more exciting than Insurgent.  The middle of the book was insanely slow, but it picked up finally at the end.  In my opinion, skip this book and just watch the movie, so you can stare at Theo James' hotness.
4.  3 Willows by Ann Brashares – 7 Stars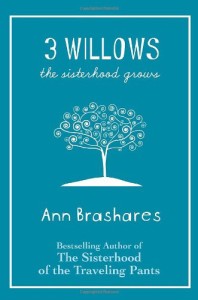 One of my favorite series growing up was The Sisterhood of the Traveling Pants.  I love books about summer and friendship, so I really wanted to read 3 Willows, which is also written by Ann Brashares.  Ama, Polly, and Jo are friends who are ripped apart for the summer.  Ama must take a summer class that she doesn't want to take, Polly is training to become a model, and Jo is living at the shore and has a summer job as a bus girl.  The story was cute, but not spectacular.  I really liked how Ama was an African immigrant.  But, I thought Jo and Polly's characters weren't as rich.  However, if you're a teeny bopper that loves summer stories, then this is for you.
3.  Eleanor and Park by Rainbow Rowell – 9 Stars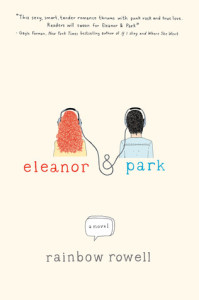 Eleanor and Park has to be by far the sweetest love story I've ever read.  Two misfits, Eleanor and Park, live in Nebraska.  Park is interracial, being half Korean and half white.  He comes from a traditional family who is loving and supporting.  Eleanor's family if very unconventional, with an abusive step father and a mother that complies to his every word.  Eleanor has five other siblings who are younger than her.  Their beautiful love story is nothing like I've read before, with words so sincere and sweet, yet not cliche.  This is a must read for any young adult fan, as well as romance lovers.
"I want everyone to meet you. You're my favorite person of all time."  -Park
2.  Perfect Chemistry series by Simone Elkeles – 9 Stars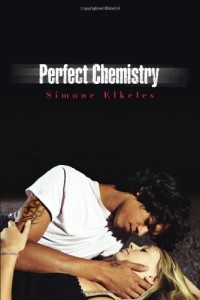 I stumbled upon the Perfect Chemistry series by accident.  The moment I began to read them, I couldn't stop.  The  series is about the Fuentes brothers: Alex, Carlos, and Luis.  Perfect Chemistry is about Alex.  Alex is a member of the street gang The Latino Blood.  He meets Brittany, who lives on the other side of town and is very wealthy.  Alex makes a bet that can score with Brittany before Thanksgiving.  The bet goes too far when Alex realizes he's falling for Brittany.  The second book, Rules of Attraction, is about Carlos Fuentes.  He has to live with a host family after getting into some trouble.  There, he meets goody goody Kiara, who puts him in his place.  Carlos realizes he can change for the better with Kiara by his side.  The last book, Chain Reaction, is about Luis.  Luis meets Nikki Cruz, a sassy girl that goes to his high school.  Nikki is falling for Luis, but has a secret past that keeps her guarded.  The books tackle race and social class, gang violence, love, and marriage.  Also, the book trailers for these books star the three hottest Mexican- American actors I've ever seen.  This is a MUST READ for all librarians and hopeless romantics.
1.  Hush Hush series by Becca Fitzpatrick – 10 Stars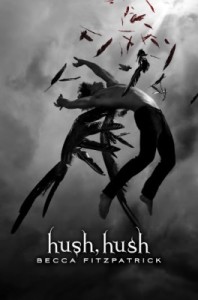 O. M. G.  Thank you to Denise Monegato for giving me this book to read!  At first I didn't really think I would be into this story.  It seemed like a distant rip off of Twilight.  But, after reading the first page, I was totally hooked.  Nora Grey lives with her mother in Maine, and she has a silly best friend named Vee.  One day in biology, her teacher switches their lab partners, and Nora has to work with Patch Cipriano.  Patch is super sexy, mysterious, but comes off as a bit of a jack ass.  As the book continues, Nora gets closer and closer to Patch, and learns that he is a fallen angel.  This series is completely thrilling, with surprises and unanswered questions (that eventually do get answered,) on every page.  By the fourth book, Patch becomes completely swoon worthy.  This series is everything that young adult readers like:  romance, mystery, horror, action, and finally a shocking ending.  It is worth every page.