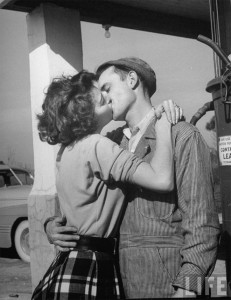 On a cold January night, I was texting my best guy friend Tony.  After asking the usual questions such as 'how are you?' and 'what's new?' Tony asked me if I was dating anybody.  I told him that I was still single, and just focusing on my career and my life.  He told me he wanted to introduce me to a guy named Frankie.  I happily agreed.  He gave me Frankie's phone number and we started texting.
We met for dinner one night and completely hit it off.  We had so many common interests.  He was smart, funny, driven, and worked with disabled kids.  I knew that I had hit the jackpot.  However, after a few weeks of dating, I ran into an old flame while out with co-workers.  We had insane chemistry, and I brought him home one night.  I didn't think it was fair to Frankie to keep dating, so I ended things with him and concentrated on my old flame.
In the months to follow, I realized my old flame hadn't gotten rid of his old habits.  He was always late, rude, mean to waitresses at restaurants, and had a messed up home life that he took out on me.  I realized that I wasn't happy, and ended things a week later.
One lonely evening, I began thinking about Frankie.  I texted him to see if we could meet again.  We met for coffee, and the sparks flew.  This time, I would never let him get away.  We've been together ever since, and we are madly in love.