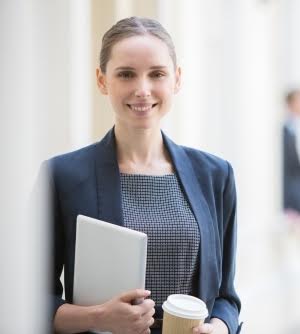 Despite the strides women have made towards equality, the glass ceiling is still fairly thick. The Scotsman stated that women often face more challenges than men in getting top jobs, which directly affects people's perceptions and aspirations. Despite the disproportionate number of businesses led by women, cabinet secretary Angela Constance recently spoke out about the ever-present gap, offering hope in the form of statistics. As reported by BBC News, Constance stated that if women's participation in the business world matched men's, it could boost Scotland's economy by as much as 5 percent-£7.6 billion-while helping to put women's career paths on par with those of men.
As it turns out, Scotland and the remainder of the U.K. isn't lacking in successful women entrepreneurs. For inspiration (or proof men aren't the only ones who have business savvy), look no further than these ladies.
Kirsteen Connell
In 2013, Kirsteen Connell established Bella Brilla, a couture bridal accessory company based in Glasgow. The goal of Bella Brilla is two-fold: to showcase exclusive designs from some of the UK's leading bridal design talent, as well as to provide busy women with a carefully curated collection of unique, on-trend pieces for their most special occasions. Recently, the company completed a trade mission with Scottish Development International to New York, where they presented the First Minister with a handcrafted Helen Swan kilt pin at the British consulate. When asked by an interviewer what kind of biscuit would Bella Brilla be (if it could be a biscuit, of course), Connell replied, "A Borders Dark Chocolate ginger – Made in Scotland, luxurious with a wicked spicy bite that makes you want to eat more." From this it's clear that when it comes to business, and biscuits, Connell knows what she's doing.
Michelle Mone
Michelle Mone, who grew up in the East End of Glasgow and left school at the age of 15, launched the international lingerie brand Ultimo in 1996, building what was to become a hugely successful career on one incredibly simple concept: helping women look and feel their very best. Besides her company's overwhelming popularity and success, Mone has quite a few accolades to her name. Not only was she voted Britain's number one most powerful woman in business by Glamour magazine, she also received an OBE from the Queen in 2010 in recognition of her services to UK business.
Kate Pietrasik
With a background in clothing design (for such brands as Hilfiger and Roxy), Kate Pietrasik had an invaluable foundation of experience that she eventually used in launching her own business. A mother who had spent many years living in other countries, Pietrasik was struck (upon moving back to England) by the fact that any sort of fashionable children's clothing tended to be segregated by gender.
Using her own background as a designer and a very hands-on, family-oriented approach, Pietrasik launched kidswear company <a href="
https://www.tootsa.com
">
Tootsa</a> from her home in 2011. Since then, it has grown it into a very unique fashion brand. The company has even expanded its unisex approach to include adults, offering jumpers just as fashionable as their kiddie-sized counterparts. Tootsa strives to create clothing that is comfortable, fun, fashionable, and, most importantly, wearable by all.
Wendy Tan White
Fresh out of Imperial College, Wendy Tan White gained a position helping with the development of Egg.com. She eventually branched off (with her husband) to form the popular UK-based web design platform Moonfruit. The company grew quickly in the early 2000s, even while White was on maternity leave in 2004. With her husband running the day-to-day company, White turned her focus to design school and social marketing in an effort to fine-tune Moonfruit and continue its expansion. In 2009, White returned as CEO, and the company was ultimately sold for £23 million.
This brief list is merely a sampling of the successful entrepreneurs (who also happen to be women) that Scotland and other parts of the UK-not to mention the world in general-has to offer. According to Inspiring Enterprise, a report published by Women's Enterprise Scotland stated that 87 percent of women entrepreneurs want to grow their businesses. With so many successful examples out there, perhaps more women will look to these ladies for inspiration as they, too, begin or expand their own business endeavors.