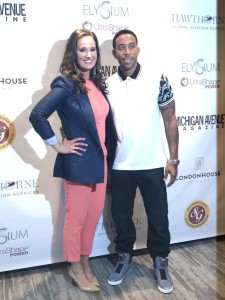 Tell me about growing up on the North Shore.
I grew up in Wilmette on the North Shore. I went to New Trier High School. At New Trier, I was mostly interested in volleyball. On a whim, I decided to try out for a radio show with my friends my freshman year. We ended up getting a radio slot at New Trier radio.
Did you know you wanted to work in radio?
I really liked volleyball, but I didn't make the varsity team my junior year. I didn't know what to do with my extra time. So, I became a program director at my radio station. It was a way to occupy my time. I ended up doing play by play radio shows for the volleyball team.
Where did you go to college?
I went to Northwestern University. I majored in broadcast television. I did a lot of work in television at Northwestern. I was head of the arts and entertainment division at the news station there. I had a lot of really fabulous teachers.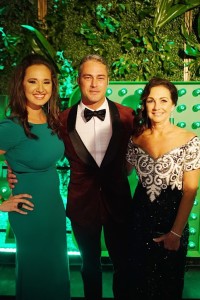 How did you get involved with B96?
Growing up, I would always listen to B96 in my car pool. I would always make my friends turn on B96. So, I did an internship for B96 my sophomore year in the promotions department. I handed out key chains and went to events and did promotional duties at the station.
How did you get involved with Stylz and Roman?
I asked them if they needed an intern. I interned with them, which was supposed to only be only 10 weeks. However, we got along so well and had so much fun I ended up prolonging my internship to a year and a half. I loved being on the air.
How did you start reporting celebrity news for Stylz and Roman?
They decided a year into my internship that it would be cool if I did an entertainment section. So, every Monday night at 7:45, I did Shelly's Street Talk. It was an entertainment update. One night the boss heard me [on the radio]. A few weeks later, he called me into my office and asked me to join the morning show. The rest is history! I started doing that when I was a junior in college.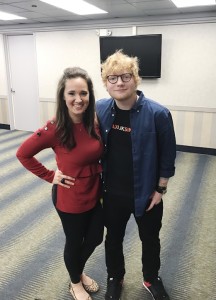 What kind of questions do you like to ask when interviewing a big celebrity?
I prep in a couple of ways. There's layers to it. I think of what I already know, and just general questions off the top of my head. With the second layer, I think about my questions a little more and I look up more information. I try to ask about them about what is relevant, such as if they're pregnant,  if they have new music coming out, or if they bought a new house. Usually I'll get good information if I'm the first one to ask them about a big life event. Right before the interview, I'll go through the questions and go over them.
What types of events do you cover?
I cover a lot of red carpet events that are happening around town such as movie premieres, openings, or publications around town. Some publications will hold a red carpet event if they're honoring a celebrity on the cover. I'll also go to L.A. to cover award shows. I've covered the American Music Awards, American Idol, the MTV Music Awards and the Grammy's.
Do you cover these events just for B96 or other media outlets?
I do it all for B96. I also post my interviews on my own social media pages.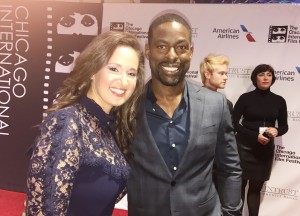 What has been your best and worst interview?
There are so many good interviews. One of my favorites was the Backstreet Boys because I loved them so much growing up. It has sentimental value. They are super fun. Drake is another favorite interview because when I interviewed him, he had a crush on Rihanna. He was really open. Pitbull is one of my favorites, too. He's super funny and open. Simon Cowell is another one. He's hysterical. J. Lo is so sweet and so nice. For as famous as she is, she's really down to Earth and she has a lot of good stuff to say.
What was your worst interview?
I've interviewed Britney Spears a couple of times. In the past, she's been difficult to interview, but her interviews have gotten better. Another interesting interview was when we interviewed Timbaland. He fell asleep on the phone!
Do you ever see yourself moving to L.A. and working for E! News?
I see myself staying in Chicago. I grew up in Chicago and all of my family is here. I love Chicago. Some people I know can't stand the winters. It doesn't bother me at all. I don't mind the cold weather. I like cozying up inside and making my apartment warm. However, I definitely see myself expanding into other areas. I've done a lot of television work. There's lots of options and opportunities.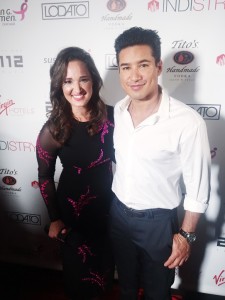 How can college students intern for you?
B96 doesn't have interns. They used to have them years ago, but they stopped that program.
What advice would you give young people that want to have a career in media?
If they have the passion for it, continue to go for it. I remember when I was a promotions intern, the on-air talent told us to try not to be on air. He told us to major in our second favorite thing instead of being on-air. I don't subscribe to that. It sounds cliche, but anything is possible.
What do you think is the key to success in media?
It's simple steps and doing it on a consistent basis. It's consistency, hard work and keeping it up. Media has changed so much. Now, you can literally use your phone and start a blog, YouTube channel or Instagram page. There are so many options and opportunities to do what you want to do. So many people are out there are doing it on their own. However, success won't happen over night. It's about being consistent and keep following through with that. Also, keep your mind open to other opportunities that could get you where you want. Keep your mind open and keep learning!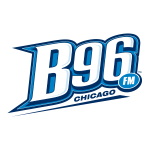 Showbiz Shelly's Chicago Favorites:
Favorite Pizza: Lou Malnati's, 1120 N. State St., Chicago
Favorite Date Spot: Urban Oasis, 939 W. North Ave., Chicago
Cubs or Sox: If I had to chose, the Cubs. But, I will support whoever is doing really well!
Favorite Christmastime Activity: I love going ice skating, going to Millennium Park and seeing the  Christmas tree, seeing the lights and decorations and going to coffee shops. I love being cozy!
Starbucks Order: Decaf Tea