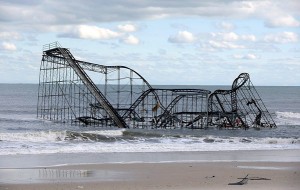 Emme:  What did you purchase to prepare for the storm?  
We stocked up on water.  I bought two extra cases of water.  I also filled up on pitchers of water for my refrigerator.  I went to the bank because we knew the ATM's were going to be shut down.  We filled both of our cars with gas.  I made sure I had plenty of candles.  Batteries, I never slack off on, anyway!  We have a big box of batteries.  I also stocked up on Sterno.  They really can heat up soup!  I also stocked up on canned soup.
Emme:  How did the media tell you to prepare?  
There was plenty of preparation.  Chris Christie did say this is not a storm you should ride out.  They also told us to get hand held can openers.  The news was fair.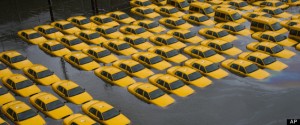 Emme:  What was the hurricane itself like?  
It was awful!  The winds were shattering.  There were unbelievable winds.  As soon as the winds calmed down, you could hear heavy rain on your house.
Emme:  When did the storm calm down?  
It was close to Wednesday (Oct. 31), but there were still bursts of winds.
Emme:  What was the aftermath of the storm in Philadelphia?  
We lost power but I had made bags of ice and I had packed my freezer with little bags of ice.  Therefore, I didn't lose any food but ice cream.
Emme:  Since you volunteer at a hospital, what was that like?  
The emergency room was filled.  The ER was packed.
Donate to the American Red Cross!
redcross.org